It would be nice to know that answer but when it comes to market timing, one of Zoe's favourite quotes comes to mind: "You are either lucky or you're wrong." Big stock downturns are normal, albeit unpleasant. Since 1950, the S&P 500 index has fallen more than 20% from its high on ten different occasions.
Some, including Warren Buffet, could argue at this time that it may be a good time to buy. He is putting his famous quote to work: "Be fearful when others are greedy and be greedy when others are fearful." There are currently plenty of good deals. The point to be made here is that it is certainly not time to flee stocks. They tend to outperform other asset classes over long periods. Stocks represent businesses, whereas bonds are just borrowed funds used for financing, and commodities are stuff.
The problem is that the average investor can't decide between elation and panic so short-term results are anyone's guess.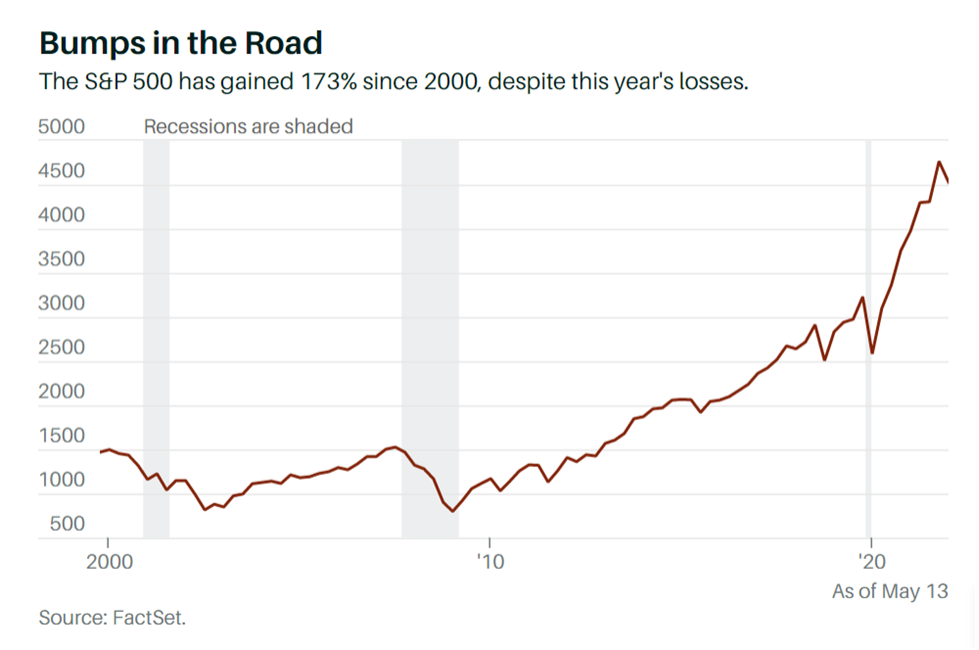 Don't Panic. It's Time to Be Bold and Buy Stocks. Barron's May 13, 2022
While it can be tempting to follow experts calling for a long-drawn-out market correction, keep in mind their long-term results are pretty lousy. The average annual return for the S&P 500 since 1988 is 10.6%. Even now the usual indicators are still pretty good. Jobs are abundant, wages are rising, and household and corporate finances look strong. We are recommending a long-term investment mix of 60% optimism and 40% humility – this one has the potential of becoming a favourite quote too.
According to an article in Barron's on the weekend, Morgan Stanley is not sure we have reached the bottom but they do think that some parts of the market are priced for upside surprises, including financials, energy, healthcare, industrials and consumer services, as well as companies linked to transportation and infrastructure.
Importantly, we continue to reduce risk on the fixed-income part of portfolios as rates rise. Currently, we are also researching the viability of investing in India, which some think is going to be the next run of emerging market success such as we saw at the beginning of the surge in the Chinese economy ten years ago. We will let you know more as we progress.
In the meantime, if you are uncomfortable with your portfolio position and would like to talk about it, we are here.

Photo by Kenny Eliason on Unsplash

The information contained herein has been provided for information purposes only. The information has been drawn from sources believed to be reliable. The information does not provide financial, legal, tax or investment advice. Particular investment, tax, or trading strategies should be evaluated relative to each individual's objectives and risk tolerance. This does not constitute a recommendation or solicitation to buy or sell securities of any kind. Wellington-Altus Private Wealth Inc. (WAPW) does not guarantee the accuracy or completeness of the information contained herein, nor does WAPW assume any liability for any loss that may result from the reliance by any person upon any such information or opinions. Before acting on any of the above, please contact your financial advisor. WAPW is a member of the Canadian Investor Protection Fund and the Investment Industry Regulatory Organization of Canada.

© 2022, Wellington-Altus Private Wealth Inc. ALL RIGHTS RESERVED. NO USE OR REPRODUCTION WITHOUT PERMISSION.